Self employment for differently-abled people
It's time, that we as a privileged society, stopped looking at the differently-abled, differently. When they are constantly trying to overcome their challenges, all that they need is our encouragement and support for their abilities to be honed. Through our specially designed programmes, we try to foster self-employment opportunities for them. By doing so, we are not enabling them because they are already able; we are only trying to make them more empowered so they can be self-employed and self-reliant.
Projects by Year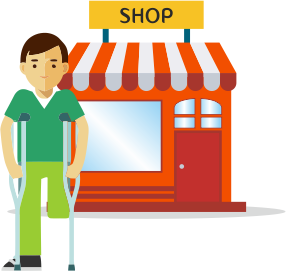 What We Do
At Let's thank foundation, our efforts are aimed at ensuring self-sufficiency for the differently-abled by creating sustainable businesses for them. We believe in recognizing the individual potential and giving the right direction not just for a bright today, but more importantly, for a promising tomorrow. Towards this, we have a systematic and streamlined process in place to ensure that our projects are well-executed.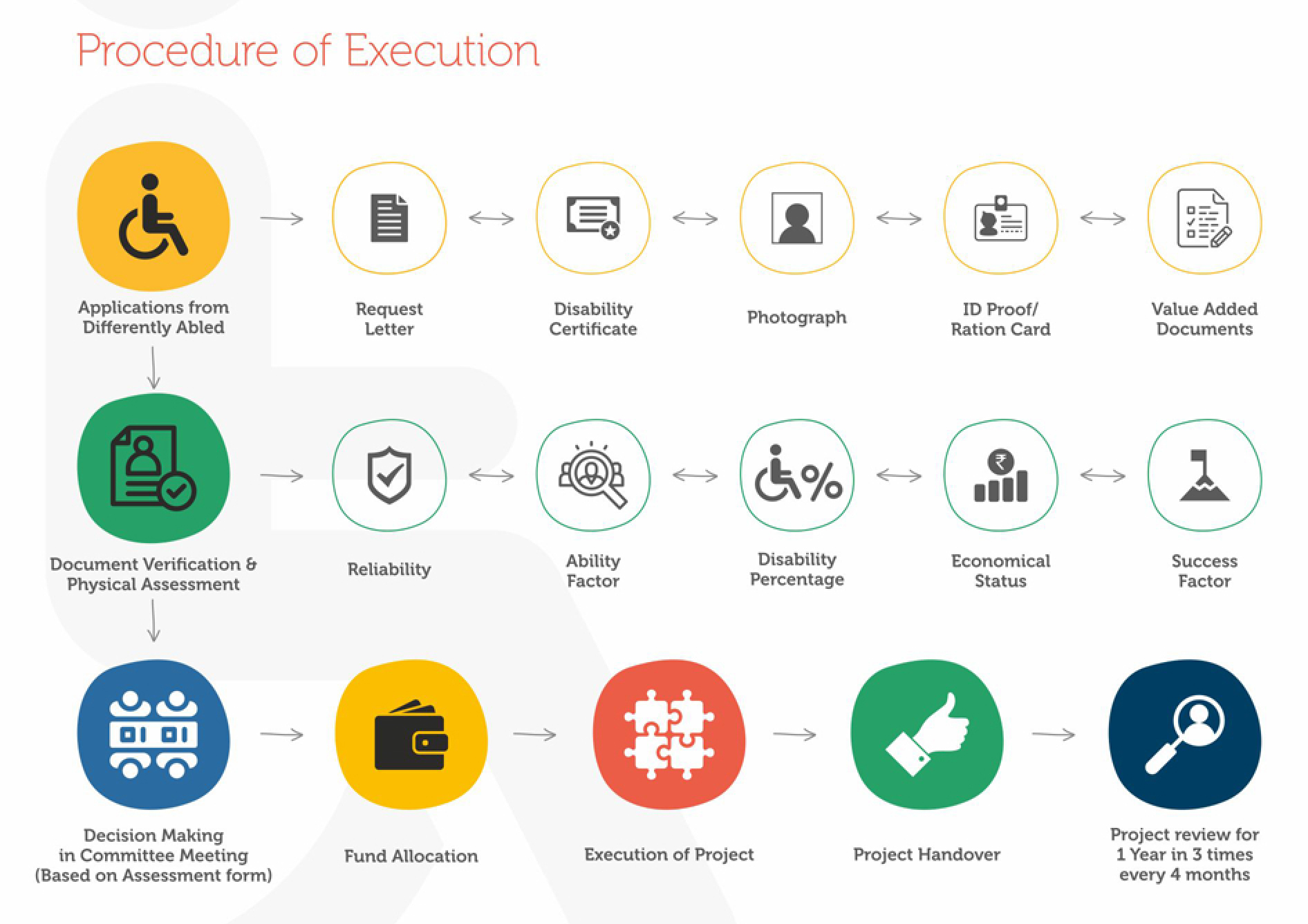 Types of Self Employment
Let's thank foundation is an organization working towards helping the differently abled people to develop self-confidence. Our trust services will make us work on your behalf for the differently abled.
| S.No | Projects | Amount (INR) |
| --- | --- | --- |
| 1 | Small Grocery Shop | 50,000/- |
| 2 | DTP Centre | 60,000/- |
| 3 | Grocery Shop | 1,00,000/- |
| 4 | Hand Loom | 1,00,000/- |
| 5 | Garments | 60,000/- |
| 6 | Tiffin Shop | 70,000/- |
| 7 | Two Wheeler Workshop | 60,000/- |
| 8 | Slipper Shop | 40,000/- |
| 9 | Agarpatthi Sales | 6,000/- |
| 10 | Stationary | 1,00,000/- |
| 11 | Tea Stall | 50,000/- |
| 12 | File Cutting / Binding | 60,000/- |
| 13 | Lathe Workshop | 1,00,000/- |
| 14 | Laundry / Ironing Shop | 50,000/- |
| 15 | Fruits Shop(Trolley) | 50,000/- |
| 16 | Spice Powder Making | 60,000/- |
| 17 | Sofa Repair Shop | 50,000/- |
| 18 | Mens Saloon Shop | 50,000/- |
| 19 | Flower Shop | 15,000/- |
| S.No | Projects | Amount (INR) |
| --- | --- | --- |
| 20 | Xerox Shop | 60,000/- |
| 21 | Mobile Service Shop | 30,000/- |
| 22 | Fancy Store | 80,000/- |
| 23 | Tailoring Shop | 40,000/- |
| 24 | Rice Flour Shop | 30,000/- |
| 25 | Men/Women Beauty Parlour | 45,000/- |
| 26 | Milk Business | 30,000/- |
| 27 | Candle Making | 30,000/- |
| 28 | Cycle Workshop | 40,000/- |
| 29 | Stove Repair Shop | 40,000/- |
| 30 | Paper Cup | 1,00,000/- |
| 31 | Electrical / Electronical Service | 70,000/- |
| 32 | Mobile Puncher | 60,000/- |
| 33 | Snacks Shop | 60,000/- |
| 34 | Appalam Business | 1,00,000/- |
| 35 | Carry bag / Paper Cup / Paper Plate (WS) | 1,00,000/- |
| 36 | Centring Sheet Shop | 60,000/- |
| 37 | Pooja Store | 45,000/- |
| 39 | Sugar Cane Business | 50,000/- |
Adopt a Project
At Let's thank foundation, we extend an invaluable opportunity for you to be associated with a project that you will have the privilege to call all yours. By adopting an exclusive project, you get to be the benefactor for not just a venture, but the guiding light to someone's entrepreneurial dreams. Adopting a project is more than just merely donating in monetary terms; it is a priceless gesture for those who will always remember you in their prayers every time their efforts bring success